Courses
Course Descriptions
Biotechnology program courses are listed in each of the degree plans. The following courses are offered in the biotechnology department. BITC Course descriptions are found here, and BIOL Course descriptions are found here.
BITC 1340
BITC 2350
BITC 2441
BITC 2431
BITC 2411
BITC 1491
BITC 1471
BITC 2486
BITC 2487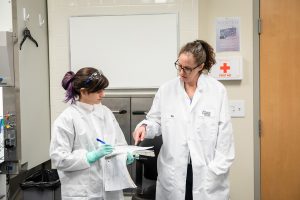 Internship Course
Link to details about the internship course.
Common Course Objectives
Common course objectives are the list of core material that will be taught in this class. The Biotechnology Department has formally approved common course objectives for all ACC Biotechnology Department courses. See a complete list of common course objectives.
Lab Manuals
Biotechnology Manuals (Current).
Master Syllabi Repository
View a master list of syllabi.
Project Management
The key to the survival of pharmaceutical and biotechnology companies in today's economy is to place successful products in the marketplace. Project managers are becoming an increasingly integral part of that strategy. Learn more about Project Management in Biosciences.